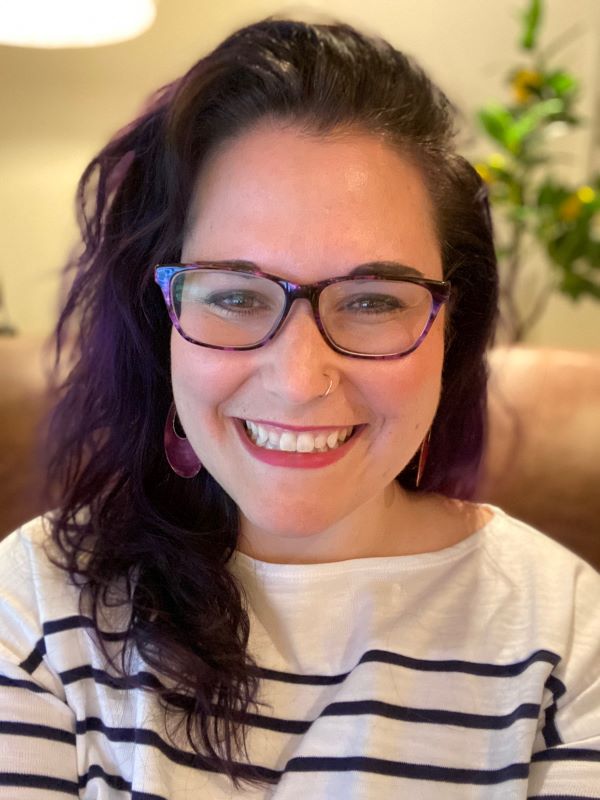 Samantha Edwards joins us as a therapist intern from Arcadia University, nearing completion of a Master's in Counseling, and a Master's in International Peace & Conflict Resolution.  Sam understands that many days, it's very hard to be a human!  So she brings empathy, compassion, kindness, and levity (when appropriate) into her therapeutic work.
Samantha uses a relational, collaborative, and flexible approach with clients, recognizing that therapeutic growth rarely happens in a 'straight line'.  She utilizes a person-center and strengths-base lens to help children of all ages, adolescents, adults, and families understand themselves better and interact more confidently in the world around them.
Concentrating in Trauma and Child & Family Therapy, Sam specializes in a variety of areas including depression, anxiety, trauma and PTSD, attachment, grief and loss, conflict resolution, and career/vocational discernment.  Samantha has received training in Attachment-based Family Therapy (ABFT), Mediation, Cognitive Behavioral Therapy (CBT), Parent-Child Interaction Therapy (PCIT), Play Therapy, Prolonged Exposure (PE), and Cognitive Processing Therapy (CPT).
She earned a B.A. in Communication Studies and French from Grove City College, has a decade of prior work experience in corporate marketing, and also currently works part-time as a Career Counselor for undergraduates at Arcadia University.
Samantha facilitates an environment where clients are free to be themselves, creativity is welcomed, and Human-ing (doing hard, human things!) is celebrated.  Outside of the therapy room or classroom, Sam enjoys singing professionally, watching or performing in musical theatre, spending time with family, and keeping up with her energetic Bernedoodle, Gilbert.
Expertise:
Children, teens, adults and families
Expressive therapies (theatre, art, music)
Anxiety
Depression
PTSD/trauma
Grief and loss
Conflict resolution and mediation
Career counseling
Christian counseling
Family therapy
Play therapy
Cognitive Behavioral Therapy (CBT)
Attachment-based family therapy 
Prolonged Exposure (PE)
Cognitive Processing Therapy (CPT)
Fee: $50 per 45-50 minute session