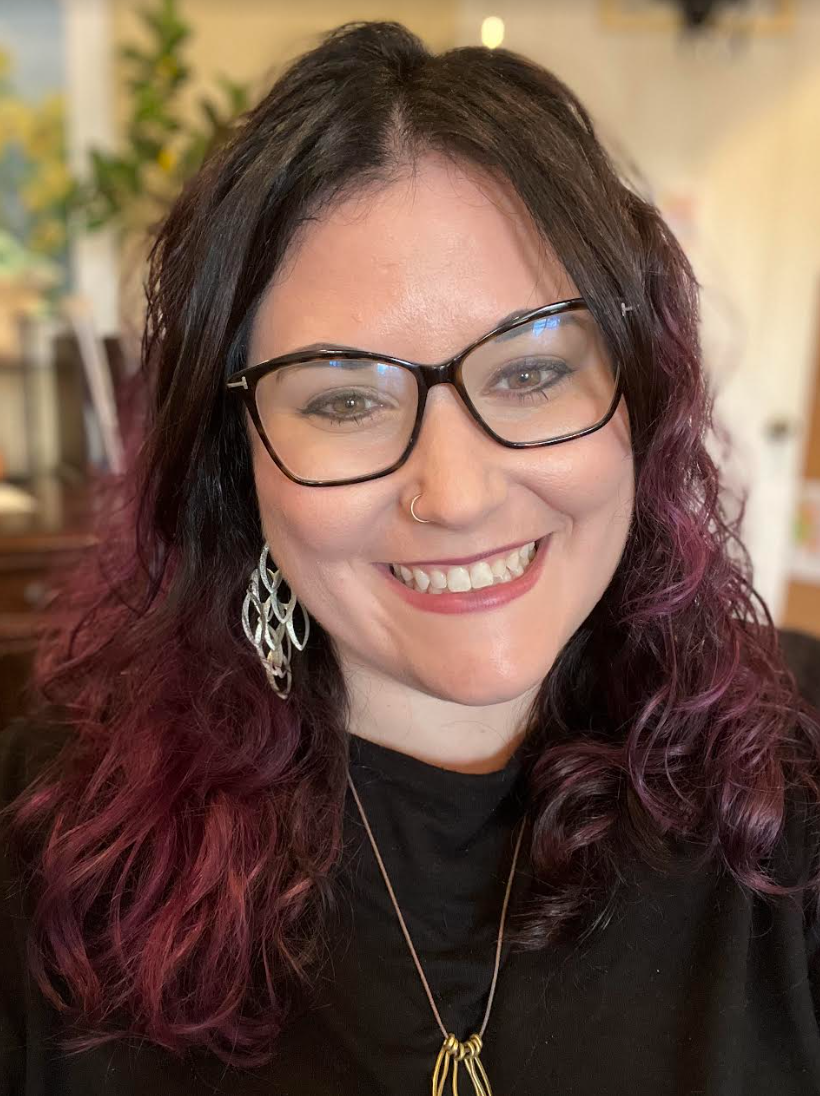 Samantha E. Edwards, M.A., LAC understands that most days, it's incredibly hard to be a human! So she brings empathy, compassion, kindness, and levity into her therapeutic work. Sam (she/her) utilizes a playful, person-centered and strengths-based lens to help children, adolescents, teens, adults and families understand themselves better and interact more confidently in the world around them. Her highly relational, collaborative, & flexible approach with clients emphasizes that therapeutic growth rarely happens in a "straight line".
Samantha specializes in areas including: Obsessive Compulsive Disorder (OCD); Depression; Anxiety; Trauma and PTSD; ADHD & Emotion Regulation; Attachment; Grief and Loss; Parent Coaching; Conflict Resolution; and Career Counseling. Samantha has received training in Eye Movement Desensitization and Reprocessing (EMDR); Exposure and Response Prevention (ERP); Emotionally Focused Therapy (EFT) for couples and families; Cognitive Behavioral Therapy (CBT); Attachment-Based Family Therapy (ABFT); Play Therapy; Mediation; and Cognitive Processing Therapy (CPT). 
Sam holds two Master's degrees from Arcadia University – an M.A. in Counseling (Trauma, Child & Family concentrations), and an M.A. in International Peace & Conflict Resolution. She earned her Bachelor's degree from Grove City College in Communication Studies and French. Sam also has over a decade of prior work experience in corporate marketing, program management, and undergraduate career counseling.
Samantha facilitates an environment where clients are free to be themselves, where creativity is welcomed, and where doing hard things is celebrated. Sam also provides safe and affirming support for LGBTQ+ clients who may be seeking help for issues related to gender identity and sexuality.
Outside of her professional work, Sam loves to travel and has a lifetime goal to visit all major continents (she's coming for you, Antarctica!). She also enjoys singing and musical theatre; spending time with family & friends; and keeping up with her energetic bernedoodle, Gilbert.
Expertise:
Children, teens, adults, and families
Play Therapy
Anxiety
Cognitive Behavioral Therapy (CBT)
Depression
ADHD and Executive Functioning
Emotion Regulation
Life changes/Transitions
Exposure and Response Prevention (ERP) for Obsessive Compulsive Disorder (OCD)
PTSD/trauma
Eye Movement Desensitization and Reprocessing (EMDR)
Grief and Loss
Expressive art therapies
Emotionally Focused Therapy (EFT) for couples and families
Attachment-Based Family Therapy (ABFT)

Conflict resolution and Mediation

Career counseling
NJ license 37AC00604800
Fee: $145 for a 45-50 minute session ($175 for the initial appointment) 
Location: 66 N Main Street, Medford, NJ and Virtual